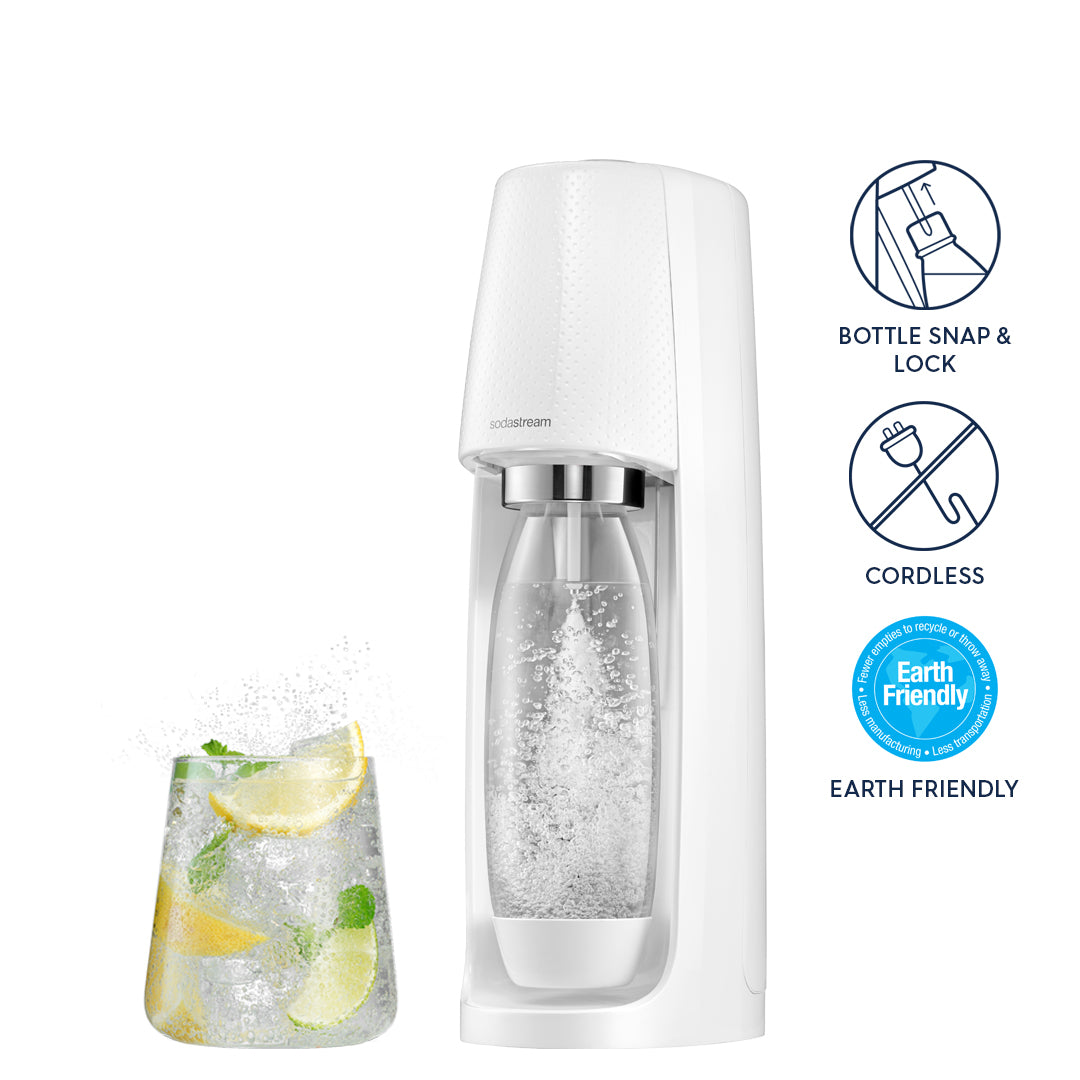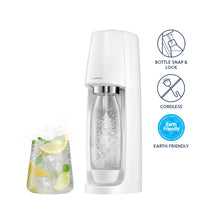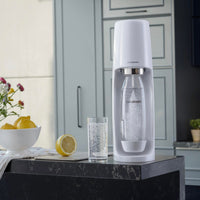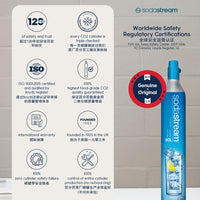 Spirit White Sparkling Water Maker
SPIRIT MODEL NOW COMES WITH 2 YEARS OF WARRANTY !!!
SODASTREAM IS BETTER FOR YOU, BETTER FOR THE PLANET! 

Red Dot Award Winner 2017
Compact, Easy to use, Fizz in Seconds 
SodaStream gives you complete control over your bubbles and sugar consumption! Enjoy the fizz without the sugary consequences! The Spirit model does not require any electric plug or batteries! It will amaze you!
The Spirit Sparkling Water Maker turns water into sparkling water in seconds and is designed to capture the essence of SodaStream's original machines while incorporating a new slimmer design to fit beautifully in any modern kitchen. This is a manual model without the need for batteries nor electrical cord. Well loved for its mobility to bring to any outdoor places! All you need is water! 

Imagine making fresh sparkling water in just seconds?! It costs only $0.50 a litre of sparkling water with SodaStream! All you need is water! Bye to lugging heavy bottles and cans; stay healthier with the fizz but less sugar or even no sugar!!
Check out IMPORTANT INFO to save time and money for SodaStream owners!
Starter Kit Contents:
Spirit Sparkling Water Maker

1L BPA-free Reusable Carbonating Bottle

60L CO2 Cylinder (makes up to 60L of sparkling water)
GOLDEN TIP #1 Remember you pay close to HALF the price when you purchase an Exchange CO2 Cylinder. We will swap your empty cylinder for a FULL one!
GOLDEN TIP #2 This starter kit comes with 1 CO2 cylinder. We strongly recommend you own 2 CO2 cylinders so that when 1 goes empty, you can give yourself a little time to exchange it while using your second one! It would cost you a little more money, but after the initial purchase, you are buying the refills, thereby cutting your cost by almost half! Visit here to buy a spare CO2 cylinder.
Make Fresh Sparkling Water In Seconds
So Much More Than A Sparkling Water Maker
Live sustainably by reducing single-use plastic
Enjoy fresh sparkling water just the way you like it.
Say goodbye to carrying heavy plastic bottles.
Create healthy, delicious soft drinks, cocktails and more.
Compare Models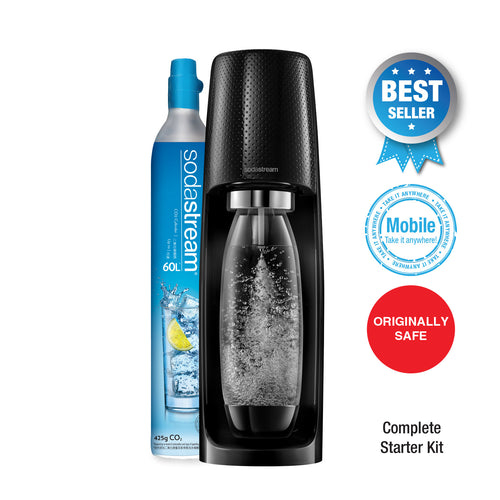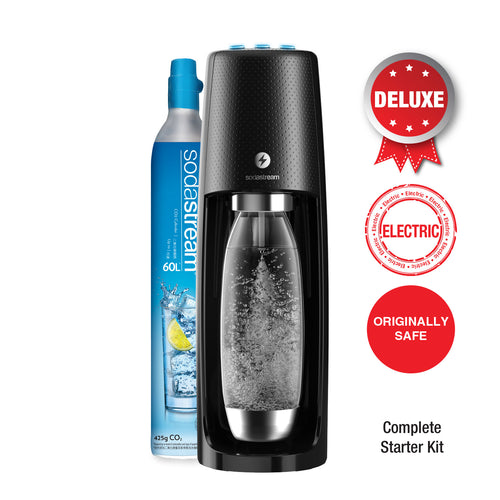 Sparkle your water with a press of a button
3 pre-set levels of bubbles at a single touch
Sparkle your water with a press of a button
Highlights
Best seller
Sleek design
Snap lock
Winner of Red Dot Award
Deluxe
Bubbles consistency
Most popular with bubbles lovers
Well-loved earlier mode
Light weight
Economical
How it works
No installation needed
Cordless
How to fizz
Manual
Control your fizz level by manually pressing the button
Automatic
Control your fizz level with 3 automatic options
Manual
Control your fizz level by manually pressing the button
Cylinder Insertion
Classic screw system
Bottle Connection Type
Quick snap & lock/ Easy insert
Quick snap & lock / Easy insert
Twist and Lock / Screw on
Dimensions (cm)
W 13.0 x D 18.5 x H 43.0
Together we can make a difference.We believe that something as small as making sparkling water at home can spark a huge change in the world.
Act Now
67 BILLION
Single-use plastic bottles eliminated by 2025 thanks to SodaStream
6 Million
SodaStream Sparkling Water Makers were sold worldwide
1280
Single use plastic bottles eliminated for every single reusable SodaStream bottle
FAQ
Yes you can find it here.
SodaStream Genesis and Spirit do not require any electricity or battery to operate. The SodaStream One Touch is the only model which is fully automated  and requires electricity to work.You simply press a button to tell it how carbonated you would like your drink and it does the rest for you.
• Both the SodaStream Genesis and Spirit  sleek and modern design can fit in any kitchen countertop. With Genesis you have to screw the bottle in or the twist-on-mechanism to secure the carbonating bottle.  The Spirit comes with a snap lock easy bottle insertion mechanism and comes with the slimline fuse bottle.
By pressing the carbonating button in firm short bursts, you're able to control the amount of fizz from a gentle bubble to a stronger bubble blast.
• The ONE TOUCH is our electric model. It has 3 sparkle presets for automatic carbonation levels, so every user can easily prepare fresh sparkling water to their taste and fizz preference. The ONE TOUCH creates consistent bubbles with one touch of a button
We are happy to offer free local delivery for any order above $50. For orders below $50, a delivery fee of $8 applies to each order. And yes, we deliver to Sentosa too! There will be an additional surcharge of $12 for delivery into Sentosa (happy to share that this is waived till end Dec 2020).  Deliveries will take up to 2 business days. We do not deliver on Sundays & public holidays. When you place your items in the cart, you will be able to see the next possible delivery slot.
We will consider requests for product exchange for unopened and unused SodaStream products purchased within 7 days, and proof of purchase will be required in the form of a purchase receipt or the confirmation email you would have received when ordering online. This also applies for items you may have received as gifts.  Great care was taken to ensure that the SodaStream products were delivered to you in good condition and we are just as disappointed as you if the product you have received is compromised in any way.
Yes! SodaStream manufactures our home sparkling water  makers to exacting specifications and therefore we are able to offer a 1-year international warranty to our customers. However, as of 15 Jun 2022, ALL Spirit models come with a 2-year international warranty. Please keep your receipt in a safe place. For easy service, it is recommended that you register your Sparkling Water Maker upon purchase. Terms and conditions apply.
There are some tests you can try to help determine if your CO2 cylinder is out of gas:
• Make sure the carbonating cylinder is tight enough and retighten it if necessary by twisting the cylinder to the right.
• If you're still not getting bubbles and if you don't hear a sputtering sound when you press the carbonating button*, you may be out of gas. You can get a new cylinder through our online Exchange CO2 here. 
Pro-tip: SodaStream recommends having at least 3 cylinders on hand, so you'll always have bubbles and so you can exchange 2 at a time, taking advantage of the free  shipping charge.  Keep a spare 60 Litre Cylinder on hand so you always have an abundance of sparkling water while you are exchanging your empty one. You don't need to run out of gas! With a spare cylinder, you will always have one ready to use while you are waiting for the exchange cylinder to arrive.  Fizzy as usual - a non-stop service!
You can return your empty carbonating cylinder(s) to us or at selected retail stores (without exchanging it for a full cylinder), getting a return fee of $2.50 per cylinder.
There is no deposit involved. When you buy a SodaStream cylinder, the price included the licence fee for the cylinder which is non-refundable.
Do note that all stores EXCEPT the following retail stores DO NOT accept the return of empty cylinders without buying an Exchange:
• Courts
• Tokyu Hands
• FairPrice
• Tangs
• Takashimaya
• Hardware City
Please email us at sparklingwater@komoinc.com for any updates on return policy of used cylinders.
Water never tasted so good
Been using SodaStream for years. Had to buy a new one due to my old machine worn out. Lasted me for abt 10yrs i think. Love it since no need to plug in.
Thank you so much for your kind words about SodaStream! We are thrilled that you enjoyed your machine. Enjoy your bubbles!
Fulfilling need without carrying weight
So awesome and convenient. Fulfilling need of sparkling water without carrying after buying from supermarket.Thank you very much SodaStream for your outstanding innovation.Furthermore no electricity needed.Amazing product.
Your review is making us sparkle! Thank you for being part of the revolution!
Enjoy your bubbles and have a sparkling day!
Fast Delivery
I ordered on 17 Mar, the next day I received and I 've been using it.
Thank you for taking the time to leave us a review.
Awesome as always
Got these as presents and everyone loves them
Thank you for taking time to leave us a review. Enjoy your bubbles and have a sparkling day!
Better to buy direct from shops …
Soda stream equipment and device are good and sustainable. Customer service and logistics can be more helpful and friendly service oriented. Lesson from experience: if can choose easier and more convenient to go and buy from other shops direct rather than thru soda stream office and delivery. Thank you
Thank you for your recent purchase and we appreciate it. Online shopping is provided with the aim to create a positive experience for all. Some consumers prefer online shopping because it makes it easy for them to shop anywhere, anytime. There's no need to worry about a store's business hours, and you can avoid crowds.
Aside from online shopping, we also provide convenience for in-store shopping at any of our retail stores. Do check us out at: https://sodastream.sg/pages/maps-all#
Thank you and have a sparkling day!