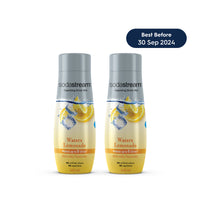 SodaStream Zeros Waters Lemonade Drink Mix - Pack of 2
Description
Specifications
SAVE with our Twin Packs !!
Better For You, Better For Environment.
The SodaStream ZEROS range offers full fruit flavour sensations, without the calories. These drink mixes feature natural sweeteners, flavours and colours, and serve as good sources of vitamin B3, B6, D & E. Containing no aspartame, one bottle makes 9 litres of juice - and if you prefer less sweet, use less mix and that means you are getting many more litres of juice too! That is great value!
Make Your Own! 
Make your own sparkling drink flavour at home. No need to run out or store lots of plastic bottles, get that great taste straight from the tap!
1 bottle contains 440ml makes approximately 9 Litres of sparkling drinks. (Ratio: 1L bottle of fizzed water to one cap of mix. Adjust as desired)
Diet : Yes
Shelf life : One year from date of manufacturing
Current batch best before :30 Sep 2024
Zero Sugar, Fresh Taste
Naturally sweetened and coloured without the excess sugar.
This sparkling water mix makes more than 9 litres of delicious better-for-you bubbles.
FAQ
Our products are allergen-free. We define allergens as being: cereals containing gluten, seafood and shellfish, eggs, fish, peanuts, soy, milk, tree nuts, celery, mustard, and sesame seeds.
All the flavours we carry in Singapore are caffeine-free, except the Classics Cola and the Classics Diet Cola.
Our diet flavors are sweetened with stevia, totally sugar-free and has zero calories!
Our drink mixes contain natural sugar (sucrose), not high fructose corn syrup (HFCS). We have deliberately chosen to formulate our drink mixes without high fructose corn syrup. To sweeten your drink further, simply add more of the drink mix.
The hermetic seal on the cap keeps your soda from going flat as quickly as ordinary store-bought beverages. If you make sure to close the cap tightly, and keep the bottle in the refrigerator, your SodaStream soda should remain fizzy and fresh for over a week.
One of the best features of making soda at home is that you can control the level of flavour in your carbonated soft drinks. In general, use a capful of drink mix for each litre of sparkling water. If you like it sweeter, add more! If you like it less sweet, use less.
Yes! For our sweetened flavours, try using a quarter capful of any of our drink mix flavours in each litre of sparkling water for a very lightly flavoured drink, to a capful for a stronger taste (Fruit flavours work best). You can also try our Zeros range for stevia-sweetened flavours without the calories! Or try using fresh lemons, limes, oranges or berries to flavour your drink. Sophisticated, healthful and quite tasty!
One of the best benefits of making soda at home with a SodaStream drinks maker is that you control the "fizziness" of your carbonated soft drinks. When you're making soda: If you like very lightly carbonated soda, press the carbonating button until you hear just a single loud buzz. If you like extra-fizzy soda, keep going until you hear 5 buzzes. The amount of fizz your soda can hold is limited only by the laws of chemistry - after about 10 buzzes, you won't be able to inject any more fizz into the water.
Unopened bottles of drink mix do not require refrigeration, but we do recommend that you store unopened bottles in a cool dry place. For the coldest soda, we recommend storing opened bottles of drink mix in the refrigerator.
The date printed on our Drink Mixes are Best before dates. They typically arrive 12-15 months prior to the "Best before" date. Drink mixes are at peak drink ability before this date. However, when tightly closed and stored in a cool, dry place, they may be consumed for several months beyond the date on the label.
So refreshing!
Definitely one of my favorite drink! It's so refreshing and taste so good! Even my friends love it!
Thank you for taking the time out to leave us a review. Enjoy your bubbles!
Refreshing!
The taste is just right. Not too sweet nor sour. Very Refreshing!
Thank you for your feedback. Great tasting!