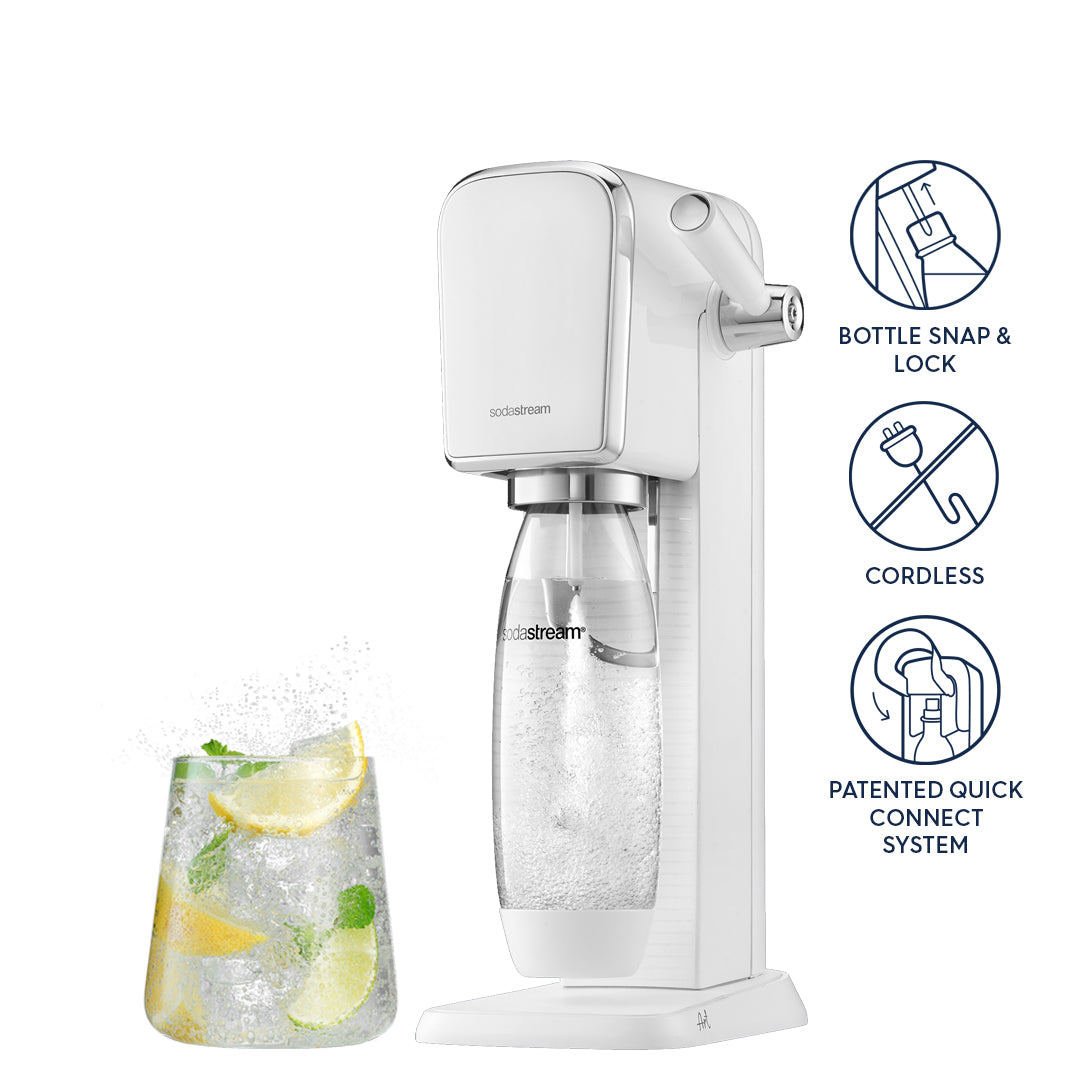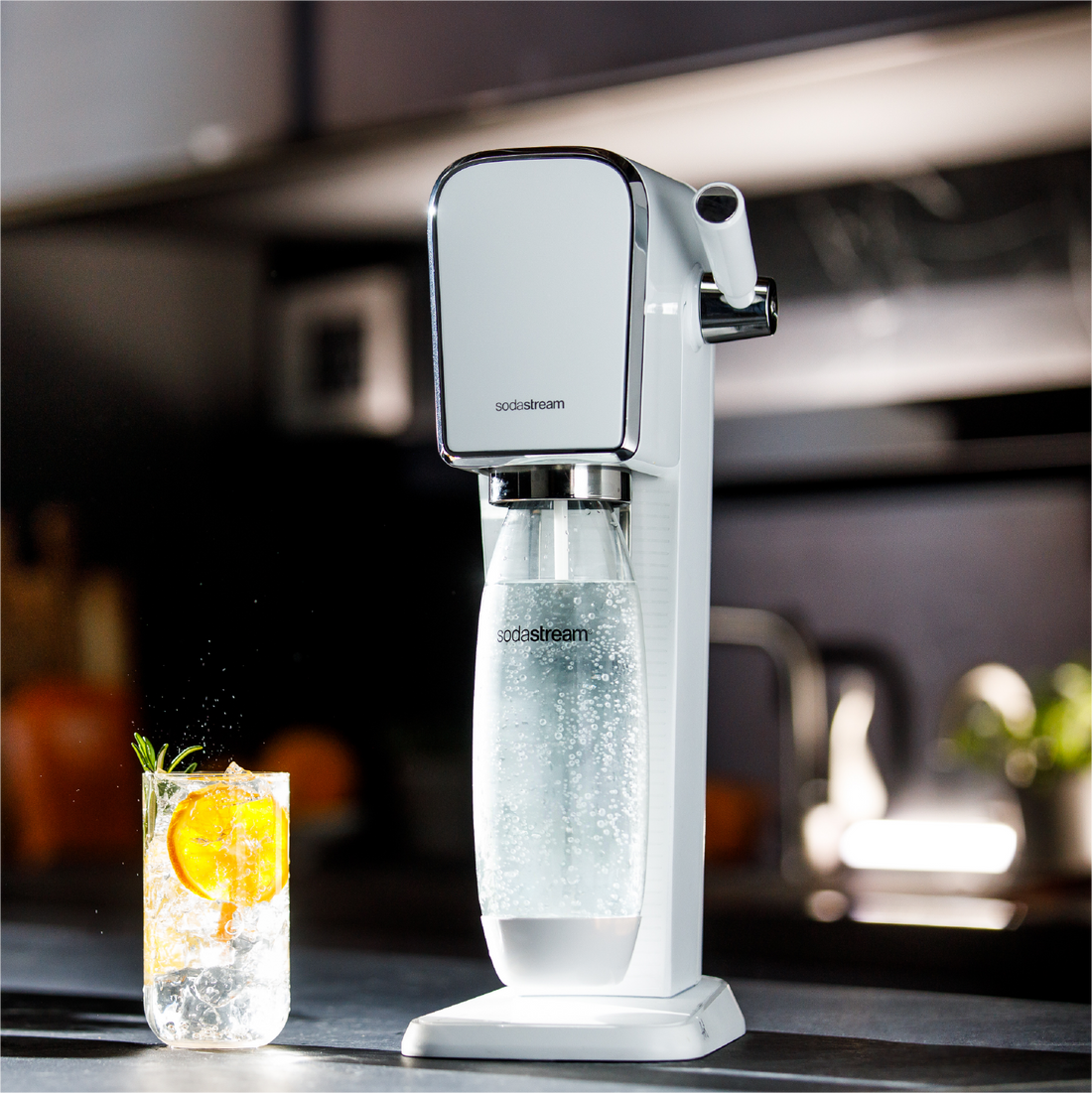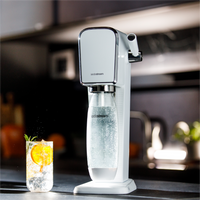 Art White Sparkling Water Maker
ART MODEL NOW COMES WITH 2 YEARS OF WARRANTY !!!
SODASTREAM IS BETTER FOR YOU, BETTER FOR THE PLANET!
Make your own artisanal drinks under 1-minute!
With SodaStream, you control the amount of sugar and fizz in your drink! Now, introducing our latest innovation, Art. The new Art model does not require any electric plugs or batteries! Carbonate your drinks now at the push of a lever!
The NEW SodaStream Art Sparkling Water Maker celebrates the art of making your own fresh sparkling beverages at home. With a push of the lever, turn flat water into fresh sparkling water and customize it to your liking.
The Art features a retro looking design along with a unique carbonating lever. Manual carbonation, no batteries required.
One SodaStream reusable carbonating bottle can save up to thousands of single use plastic bottles.
Starter Kit Contents:
Art Sparkling Water Maker

1L BPA-free Reusable Carbonating Bottle

60L CO2 Cylinder (makes up to 60L of sparkling water)
GOLDEN TIP !! Remember you pay close to HALF the price when you purchase Exchange CO2 Cylinder. We will swap your empty cylinder for a FULL one!
Make Fresh Sparkling Water in Seconds
Already Have a Sparkling Water Maker? Learn how to use it. Learn More
One cylinder carbonates up to 60L of sparkling water!
* depending on the degree of carbonation and sparkling water.
Learn more
So Much More Than A Sparkling Water Maker
Live sustainably by reducing single-use plastic
Enjoy fresh sparkling water just the way you like it.
Say goodbye to carrying heavy plastic bottles.
Create healthy, delicious soft drinks, cocktails and more.
Compare Models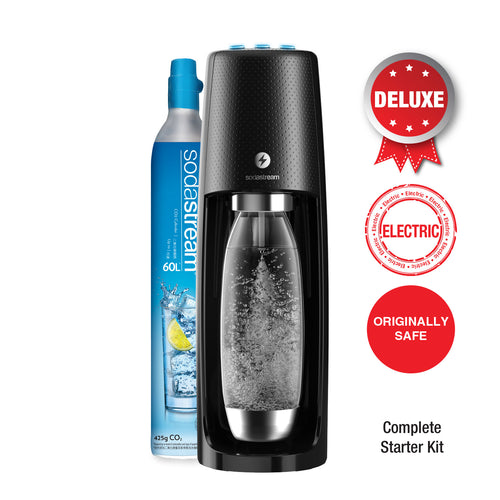 Retro looking design along with a unique carbonating lever
3 pre-set levels of bubbles at a single touch
Sparkle your water with a press of a button
Highlights
Retro Design
Snap lock

Deluxe
Bubbles consistency
Most popular with bubbles lovers
Well-loved earlier mode
Light weight
Economical
How it works
No installation needed
Cordless
Electric
Cordless
How to fizz
Manual control your fizz level manually pushing the lever
Automatic
Control your fizz level with 3 automatic options
Manual
Control your fizz level by manually pressing the button
Cylinder Insertion
Pink Quick Connect CO2 cylinder
Classic screw system
Classic screw system
Bottle Connection Type
Quick snap & lock / Easy insert
Quick snap & lock / Easy insert
Twist and Lock / Screw on
Dimensions (cm)
W 26.5 x D 24.3 x H 42.9
W 14.0 x D 19.0 x H 43.0
W 13.0 x D 23.0 x H 42.0
Price
Starting at $249
Starting at $298
Starting at $119
Together we can make a difference.We believe that something as small as making sparkling water at home can spark a huge change in the world.
Act Now
67 BILLION
Single-use plastic bottles eliminated by 2025 thanks to SodaStream
6 Million
SodaStream Sparkling Water Makers were sold worldwide
1280
Single use plastic bottles eliminated for every single reusable SodaStream bottle
FAQ
The ART is our new premium Sparkling Water Maker and is all about your unlimited personal creation. With just a few pushes of the lever, you can craft your own homemade sparkly drinks, turning H2O into H2Wow. You can purchase the ART online or at a store near you, and enjoy bubbly masterpieces every day.
Yes you can find it here.
We made changes to our cylinder system to ensure our consumers get the most comfortable experience. The new Quick connect cylinder was designed with an advanced mechanism for simple insertion in one click, thus making the cylinder inserting process faster and more user friendly for the consumer.
You can download the manual here.
The ART Sparkling Water Maker celebrates the art of making your own fresh sparkling beverages at home. With a push of the lever, turn flat water into fresh sparkling water and customize it to your liking.
SodaStream Genesis and Spirit both of the model are sleek and modern design can fit in any kitchen countertop. With Genesis you have to screw the bottle in or the twist-on-mechanism to secure the carbonating bottle.  The Spirit comes with a snap lock easy bottle insertion mechanism and comes with the slimline fuse bottle.
By pressing the carbonating button in firm short bursts, you're able to control the amount of fizz from a gentle bubble to a stronger bubble blast.
The One Touch™ is our electric model. It has 3 sparkle presets for automatic carbonation levels, so everyone in the family can easily prepare sparkling water to their taste.
We are happy to offer free local delivery for any order above $50. For orders below $50, a delivery fee of $8 applies to each order. And yes, we deliver to Sentosa too! There will be an additional surcharge of $12 for delivery into Sentosa (happy to share that this is waived till 30 Sep 2022).  Deliveries will take up to 2 business days. We do not deliver on Sundays & public holidays. When you place your items in the cart, you will be able to see the next possible delivery slot.
We will consider requests for product exchange for unopened and unused SodaStream products purchased within 7 days, and proof of purchase will be required in the form of a purchase receipt or the confirmation email you would have received when ordering online. This also applies for items you may have received as gifts.  Great care was taken to ensure that the SodaStream products were delivered to you in good condition and we are just as disappointed as you if the product you have received is compromised in any way.
Yes! SodaStream manufactures our home sparkling water  makers to exacting specifications and therefore we are able to offer a 1-year international warranty to our customers. However, as of 15 Jun 2022, ALL Spirit models come with a 2-year international warranty. Please keep your receipt in a safe place. For easy service, it is recommended that you register your Sparkling Water Maker upon purchase.Terms and conditionsapply.
Sleek design and easy to operate with the lever
Changed from Spirit icy model to this ART model and was impressed with ease of use with the lever. Unfortunately bigger footprint on the table top compared to Spirit model. And tendency to overflow even though I kept to the marked line.
Thank you for taking the time out to leave us a review. Can you give us a call on 9009 0488 for us to address your concern on the overflowing of water of your sodastream Art?